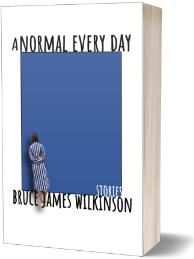 Available Now!
Edition:

2nd Edition

Available in:

Paperback and eBook (Kindle, Kobo, Nook, Epub)

Published:

September 25, 2020
Buy from your favorite online bookstore!
A Normal Every Day - Stories
Short stories, for when your attention span is limited but fiction is what you want.
Nathan gets everything he wanted but loses the most important thing he had, and Tiller discovers that what appears to be the worst thing may be the best.
A kitchen knife inserts itself between a woman and her normal bad day, and an older partner sinks while his younger partner finally floats to the surface.
A hat and head celebrate their golden anniversary, a landlocked pirate wishes his housekeeper would fly upside down just once, and a housemaid and her attorney seek fair value for her contribution to art.
These and more in the eighteen-story collection, A Normal Every Day. Fictional lives that reflect real journeys through heartache and joy, love and vengeance, growing up, growing old, winning, losing and holding our own.
Experience multiple characters in snapshots of their varied lives through short fiction. If you love the form, or if you haven't tried it for a while, buy the book, read it, and feel the joy of brevity and variety wrapped up in a single eclectic volume!