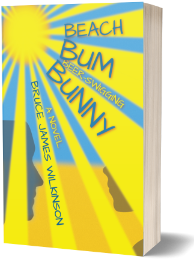 Available Now!
Edition:

2nd Edition

Available in:

Paperback and eBook (Kindle, Kobo, Nook, Epub)

Published:

September 25, 2020
Buy from your favorite online bookstore!
BEACH BUM BEER-SWIGGING BUNNY
Jacob "Bunny" Morris did nothing to deserve Marilyn Renton – Partner, but Marilyn thinks otherwise. He was minding his own business in a humble, peaceful place until she came along and tossed her lovely monkey wrenches into his worn cogs. She looked for him, found him, and for Bunny, nothing will ever be the same again.
He thought he was done with all that. For him, it's no laughing matter, but for us it is, as we watch him squirm under the influence of late-life romance, entirely unacceptable good fortune, and beer served in oversized bottles that is no longer enough.
If you're no longer young, you know that love never gets easier. If you are young but you expect the day will come when you aren't, you might as well get a glimpse, because–as Bunny Morris discovers–the arteries may harden, but the heart never quite firms up.
What shatter's Jacob's peace? Who is he? Who is Marilyn? Who is Jackbenny the Cur? Buy the book; read the book; find out!
(Although there is adult language in Beach Bum Beer-Swigging Bunny, it is a good-natured and gentle story suitable for readers between puberty and too damn old.)